Guest Reviews
"Eva and Stephen's place is a dream come true. They have literally thought of everything and go above and beyond to make sure their guests are comfortable and well fed. They have great suggestions and recommendations to make the most of your stay, from must see scenic gems to amazing pubs. They are perfectly located near the Aran Island and the Cliffs of Moher which are both a MUST SEE! The breakfast option provided should not be missed; Eva's authentic Irish breakfast is absolutely divine and keeps you fueled for a day of adventure and sightseeing. We will definitely be back to this magical and beautiful place that amazingly made us feel right at home. Also, take some time to get to know your neighbors (piglets, donkeys and of course Lady Gaga and Panda the best dogs you'll ever meet)"
-Nadia September 2018
''Easter family break to The Burren. First glamping experience. Eva & Stephen are wonderful hosts and offer the full package-glamping 5star 🙂. Breakfast was excellent, with our hosts offering organic produce and homemade scones. The cabin is fabulous, with plenty of room for a family of 5. Stove and electric shower make it a home away from home. Very accessible for Cliffs of Moher and exploring The Burren.''
-Deirdre April 2018
"Eva and Stephen define hospitality to a T, our entire stay was extremely relaxing and memorable thanks to Burren Glamping. The horse cart was fun, cozy and comfortable to stay for the 4 of us, and full of personal touches. The location is convenient midpoint between all the major places you would want to visit in Clare county. But the best part were the hosts themselves who are gracious, interesting, and welcoming. Eva is an amazing cook, so definitely opt in for organic breakfast which will likely last you until dinner. She also has the best recommendations for places to eat and see in the surrounding area. Our 3 yr old really enjoyed seeing all the animals on the farm (donkeys, cows, chickens and pigs!) and interacting with their two adorable dogs. Burren Glamping was hands down the best part of our Ireland vacation!"
-Natasha Sept 2018
''This was our first experience of "glamping" and it did not disappoint! We wanted an experience that was going to be close to the Cliffs of Moher and the Aran Islands, but little did we know of all that the Burren has to offer! Eva talked to us at breakfast(which was wonderful and worth the small fee!) about all of the local things to see. We took her advise on several of them and really enjoyed ourselves! Thank you Eva for your commitment to the Burren and we wish you continued success!''
-Antonia June 2018
Awards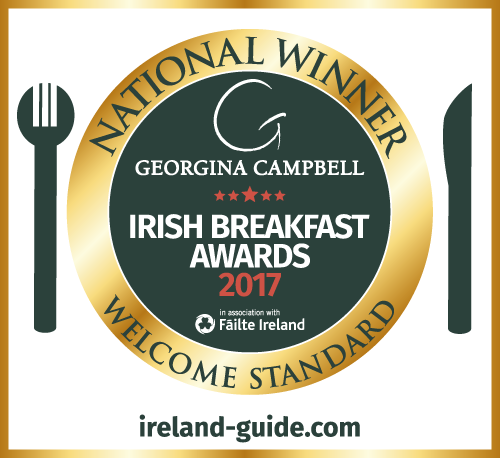 Georgina Campbell ''IRISH BREAKFAST AWARDS 2017
---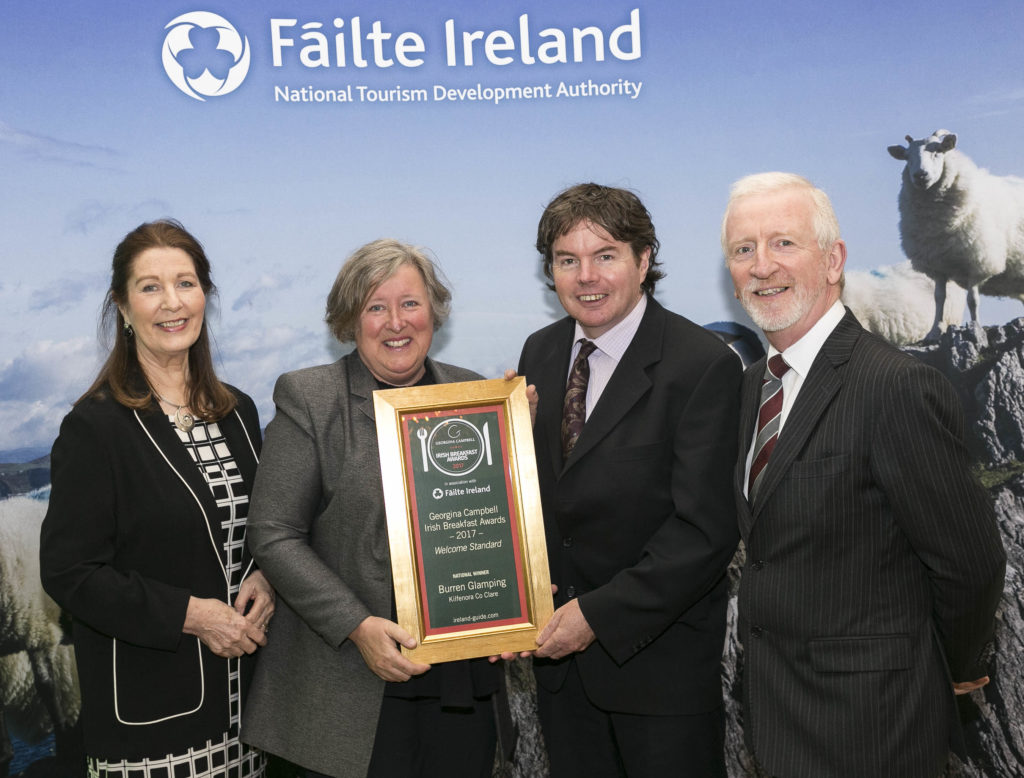 ''Already well known for their wonderful free range pork, Eva and Stephen Hegarty started Burren Glamping in 2015, offering cosy accommodation in an imaginatively converted vintage horse truck on their small farm. It's quirky – and it's gorgeous. It's hard to imagine that a horse truck – even a 4-horse truck – would have space for all the amenities and comforts that they have somehow fitted in, but it's very cleverly arranged. And, better still, it's not necessarily just self catering as Eva and Stephen offer a package including breakfast and other meals (lunch/dinner/picnics) made with produce from their farm – and also guided tours of the area, as Stephen is an experienced Burren Guide. So, as well as staying in what must be Ireland's cutest accommodation, guests can breakfast on tasty rashers supplied by the Hegartys' happy Burren Saddleback and Saddleback/Tamworth cross pigs. Burren Glamping is a total one-off and the Welcome Standard could have been invented for it''.
---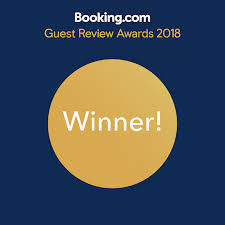 Guest Review Awards 2018: 9.6
Booking.com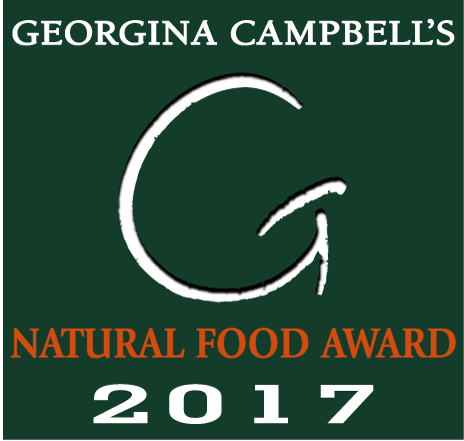 Georgina Campbell: 'Natural Food Award' 2017
---
'' Quirky and simply gorgeous, Burren Glamping is a total one-off and simply has to be seen to be believed. – it's open all year too, and so well insulated that you'll be warmer here than in many a B&B. This place and its diverse products are an extraordinarily evocative expression of a philosophy that takes in food, hospitality and landscape''.
---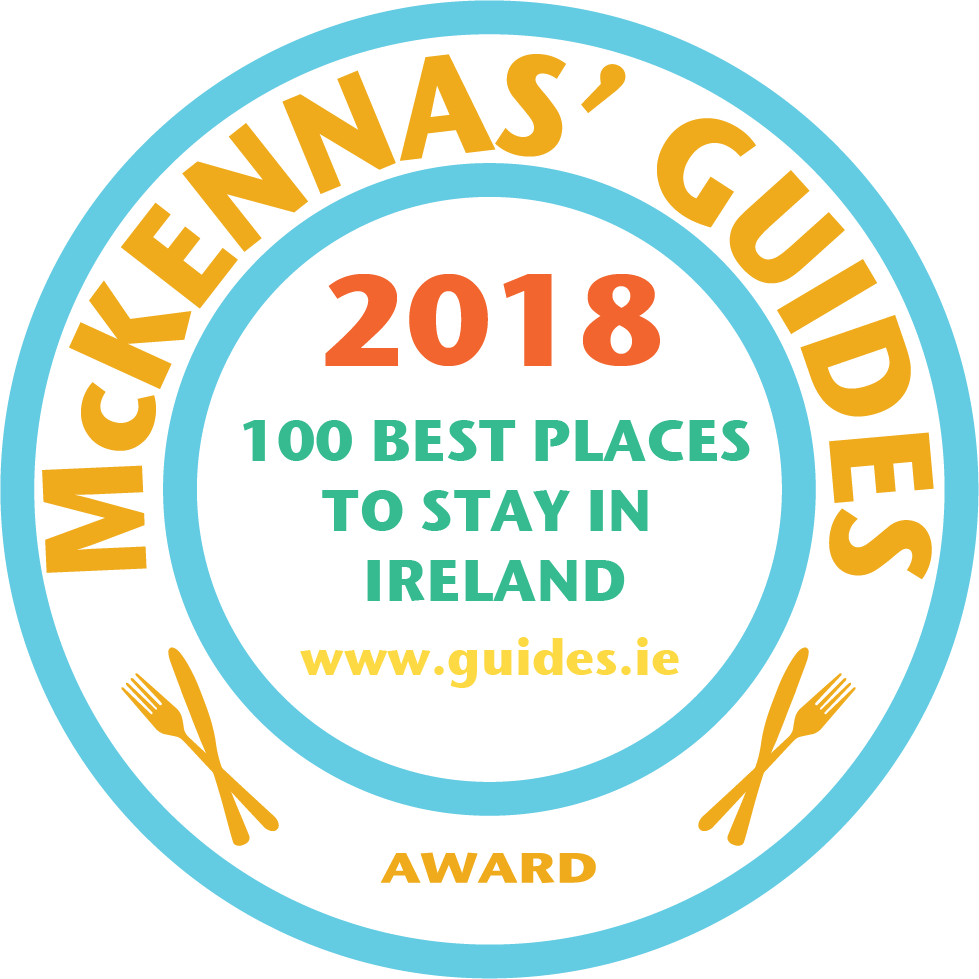 McKenna Guides: Best in Ireland 2019
''Eva and Stephen are philosophers of country life. They understand the simplicities of pleasure, the ways in which good food, and a calm, elemental place to escape to, can restore us, in every sense.
Their Burren pigs are happy animals who live the good life, and provide us with truly good food – natural; sustainable; sustaining. The converted horse truck in which they offer their Burren Glamping is the sort of space that both children and adults dream about: your own little hideaway, from which you can watch the chickens and ducks and pigs and cows play and scamper in the fields. Staying here shows us the real good life, a life at peace with nature, sustained by the good foods that are nature's bounty. Simply unforgettable.''
---

2019 Finalist in the category 'Best Innovative Place to Stay'
Media
Mentions in articles and books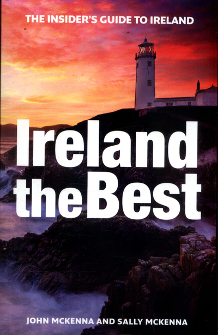 McKenna's Guides: Ireland the Best
The Insider's Guide to Ireland, published by Collins. 2018
Guides.ie
---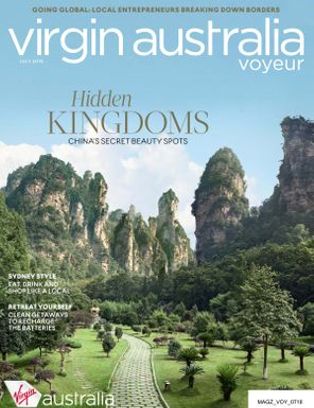 Virgin Australia's Voyeur Magazine
Virgin Australia's Voyeur magazine Summer 2018: Bounty of the Burren – Burren Glamping – A wood-panelled horse trailer parked at the Burren Free Range Pork Farm provides country chic accommodation, including a full Irish breakfast.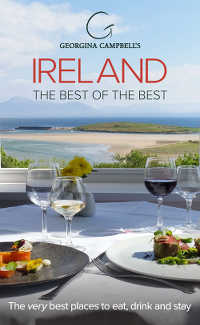 Georgina Campbell's Ireland 2018
---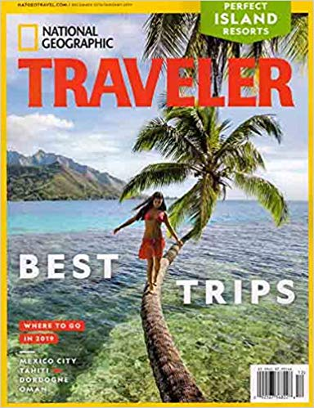 National Geographic Traveler Magazine
Road Trip The Burren – ''Agriculture's also key here. Learn about it with Eva and Stephen Hegarty on a tour of their Burren Free Range Pork Farm, complete with samples of products made from the British Saddleback swine. A stay in the farm's Burren Glamping trailer comes with a breakfast of thick-cut bacon, tender sausage, eggs, and toast with homemade jam''.
Irish Examiner
10 great holidays to take on Ireland's farms
September 14, 2020